[Crossing Cultures: Indians in China] Reshma Khan: The Language of Food
"I think food is something that does not require a language. It crosses all boundaries."
by
Nick Lanigan Photographs courtesy of the internet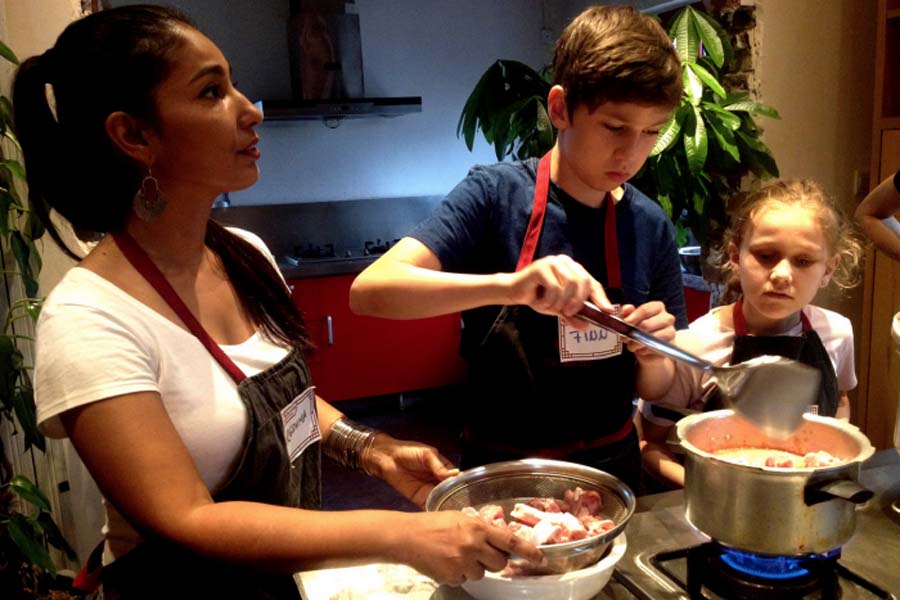 Beijing's Indian food scene may not be the city's biggest attraction, but it's certainly growing. That's in no small part thanks to the efforts of chef Reshma Khan, now a familiar figure at food fairs and events all around town. Over the years, her array of chutneys, curry pastes and other culinary surprises has whetted the appetite of many a homesick expat—as well as bringing the flavours of India to a new, Chinese audience.
Growing up in Mumbai, Reshma was exposed to a broad tapestry of Indian cuisine. With relatives hailing from various different states, as well as a family-run restaurant, she was able to learn the secrets of many varieties of regional cooking. But it wasn't until she made the move to China that she transformed this knowledge into a business idea. "When you live outside your own country, you crave your own food," Reshma explains. It was only logical that if others felt this way too, there must be a market for authentic Indian food.
Reshma first came to China when her husband moved to Hebei Province for work, and the couple spent four years there. "Where we lived, we were the only two foreigners," Reshma laughs. Despite not speaking a word of Chinese, she began to learn the basics of Chinese cooking. "Food is something that does not require a language," she says. "It crosses all boundaries." She soon discovered that people were curious about Indian food, and when she moved to Beijing, things really took off. "One of the first events I attended in Beijing was a fair for the Indian community," Reshma recalls, "where I set up a food table. We sold out! The Indians loved the food, and when Indians enjoy the food, it speaks more, because of course, they are the best judges. That gave me the confidence to take the jump, because it was a very new market for me." Back then, Reshma had no idea how her business would grow. "One thing just led to another," she laughs. "This is now my fifth year!"
In Reshma's experience, the popularity of Indian food is growing in China. "More Chinese people are growing to like Indian food now," she explains, "because social media is such a strong platform today, so everybody sees something and wants to try it out." Reshma's food lends itself to those who want to try Indian cuisine, but are not ready to commit to a full meal. "Events are the best," she says, "because people come to try things. Samosas work, as well as chicken wraps—you'll always see one friend come and buy one, and then if they like it, two or three more will come together. It grows."
For those who are already familiar with Indian food, Reshma has another option—cooking classes, where students can learn to make their favourite Indian dishes from scratch! "Teaching is a way of spreading the knowledge," says Reshma. "You're telling stories from your country, and sharing cultures at the same time." Classes take place at The Hutong, a cultural events centre in Beijing, and are always structured around a certain theme. "Every class has a story," she says, "whether it's 'Indian Tea Party', 'Indian Breakfast' or even 'Restaurant Specials'." Given the global popularity of Indian food, it's not surprising that the classes are particularly popular with expats, who miss the Indian food they can find in their home countries. "I even have some students who have lived as expats in India, and now their companies have sent them here to Beijing," she explains. "They never learned Indian food in India, because it was everywhere! But now, they realize they miss it, so they spend a class learning some dishes." Word spreads easily in Beijing, and Reshma's classes are always popular.
She accepts that at the moment, the majority of Chinese people aren't yet interested in learning to cook Indian food for themselves. "It's a very new cuisine here," she admits. "People find it very complicated." However, Chinese people may find some aspects of Indian cooking unexpectedly familiar. "When I teach a cooking class, I explain why each spice is used," Reshma explains. "There are scientific reasons, of course. When you talk about that, it's actually the same as Chinese medicine. They know the medicinal values of herbs and spices; that's the same for both cultures."
"Lately, however, I've been getting some Chinese students too," she adds. "Mostly, the Chinese people who have travelled or studied abroad, so their palates are more exposed to different cuisines. They start to enjoy the Indian food abroad, and miss those flavours when they come back to Beijing."
Beijing's large, internationally-minded population has certainly helped, but for Reshma, there are also some less obvious advantages to having her business in China—including its social media landscape. "I think WeChat is such a powerful, interactive platform," she says. "People message me all the time with questions or pictures of dishes they've made using my ingredients. It's great for my clients and for my business!" Thanks to the immense popularity of the messaging app, Reshma can even fulfil some orders without being in Beijing. "I almost always go back to India during the Chinese New Year," she explains, "and I am able to take a long break. During that time we stop catering hot food, but still do the chutneys and curry paste range. People just order through WeChat, and I make sure someone in Beijing can send it out!"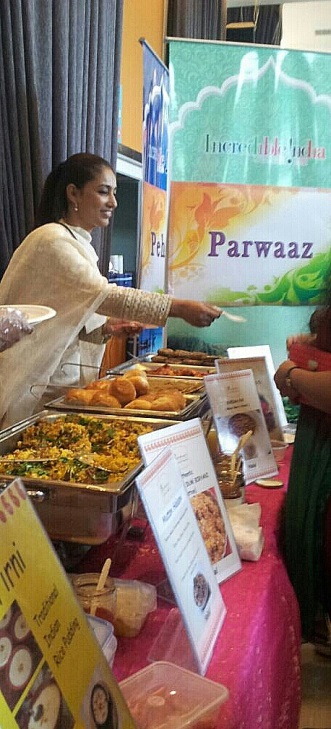 Reshma may be away from her business during her trips home, but that doesn't mean she stops working. "When I go back to India, it's all about food, and learning from all the other chefs I meet. I bring the ideas back with me," she explains. "Sometimes I travel, just to try new restaurants in different cities." But it's not just ideas that Reshma brings back to China. "Being extremely particular about quality, having a friend who owns a spice plantation has ensured that the spices that I import are of high standards. Buying them directly from the source, I can be very confident about my product."
Cooking classes, food tables at events, pop-up dinners, catering for private parties and embassies; it has all kept Reshma so occupied that she has stayed in China longer than she ever thought she would. "Beijing is great!" she exclaims. "You can do so much here—it's never boring. In fact, when I go back to India, I miss it. For me, Beijing is now home."
So, if you live in Beijing and are looking for an Indian culinary experience, you're in luck—she's not leaving any time soon.