[Belt&Road]Dialogue Over Doubt for China and India
Interview with Professor B. R. Deepak from the Center of Chinese & Southeast Asian Studies, Jawaharlal Nehru University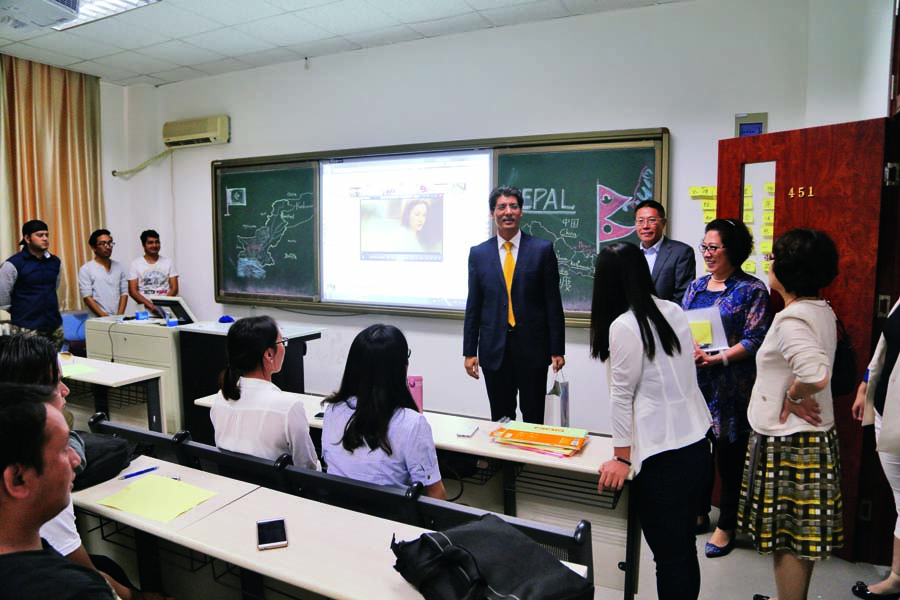 In the autumn of 1991, soon after receiving a master's degree from the Center of Chinese & Southeast Asian Studies at Jawaharlal Nehru University, B. R. Deepak boarded a plane to Hong Kong and then Beijing, where he spent two years at Peking University as a visiting scholar. During his stay in Beijing, Deepak fell in love with Wang Yao, a Chinese girl attending Peking University. Several years later, they got married.
At the time, no direct flights connected India and the Chinese mainland, and only a few Indian students studied in China. Transnational marriages between the two countries were even rarer. Today, however, Chinese and Indian people in many cities can fly directly to each other's country, and the volume of Indian students studying in China exceeds 13,000. Mixed marriages between Chinese and Indians have become commonplace.
After decades of academic work as a Professor of Chinese at Jawaharlal Nehru University, Deepak is now a renowned sinologist, translator and expert on ChinaIndia relations. He stresses that although China-India relations remain a tiny slice of international exchange in the world, the bilateral relationship has seen a tremendous transformation compared to what it was 26 years ago.
During his most recent trip to Beijing, Professor Deepak sat down with ChinaIndia Dialogue to talk about issues including China-India relations and cultural exchange. He spoke Chinese throughout the interview and directly addressed old and new problems that the two countries face. As an expert on Chinese culture and civilization, he has a deep insight into the national personality of Chinese people and China's diplomacy. He believes that the solution to the normalization of China-India relations is dialogue over doubt.
"Belt and Road" to India?
On November 5, 2016, Deepak gave a lecture on the China-proposed Belt and Road Initiative at Doon University in Uttarakhand, India. The northern Indian state of Uttarakhand borders China's Tibet Autonomous Region on the western route of the Belt and Road. As founder of the Department of Chinese at Doon University, Deepak hopes that more Indians, especially young people, will become familiar with China and the Belt and Road Initiative. So far, outside of academic circles, most Indians have no idea about it.
China introduced the Belt and Road Initiative in 2013, aiming to optimize its advantages in transportation engineering, promote in-depth connectivity with neighboring countries through infrastructure, connect "growing Asia" to "developed Europe" and accelerate regional and global development.
Over the past three years, more than 100 countries and international organizations have voiced support for the Initiative, and over 40 countries and international organizations along the Belt and Road have signed cooperation agreements with China. However, India, the biggest southwestern neighbor of China, isn't among them. According to Deepak, India has shown a reluctant attitude towards the Initiative because many Indians think "China is indifferent to India's sensitivities." For instance, the China-Pakistan Economic Corridor, a landmark project along the Belt and Road, involves areas disputed by India and Pakistan, and opposition forces in northeastern Indian states are a major security concern for the Indian government. It would be diffcult for China and India to cooperate in such areas.
However, Deepak doesn't agree with the Indian government's attitude towards the Belt and Road Initiative because he believes that missing the opportunity won't beneft India's security interests. "Negotiation is the best way to solve bilateral problems," he remarked. "India should communicate with China and Pakistan to explore the possibilities of expanding western branch routes of China's economic corridors to India, not necessarily through the disputed territories between India and Pakistan but, say, via Afghanistan and China's Xinjiang, which would promote trust between all the three parties."
Deepak suggests that expanding the China-Pakistan Economic Corridor to western Indian states such as Gujarat would likely facilitate trust between India and Pakistan. In terms of energy cooperation, although the Turkmenistan-AfghanistanPakistan-India gas pipeline project was already launched at the end of 2015, instability in some areas through which the pipeline passes needs to be addressed. In this context, "India could discuss building another economic corridor that expands the infrastructure connectivity between China's Xinjiang Uygur Autonomous Region, Central Asia and a region in northern India, like Ladakh. Border disputes can be suspended and shelved and shouldn't hinder cooperation on infrastructure and economic exchange."
According to the construction plan for the southern railway network under the Belt and Road Initiative, the rails linking China's Xigazê to the China-Nepal border are under construction and scheduled to be completed in 2020. After that, the railway will further expand to reach Kathmandu and other Nepalese cities. "India's border areas are some of its poorest," Deepak noted. "If Chinese and Indian railway networks can connect to each other through the China-Nepal railroad, not only will local residents beneft, but also the threats to regional security will be minimized and economic cooperation enhanced. All three countries will beneft. Why aren't we doing this?"
Many Indians believe that cooperation with China would compromise India's security. However, Deepak suggested that Indians think outside the box, change old mindsets and mentalities and overcome fears about China through dialogue, connectivity and communication. "Doubt will only worsen the situation," he added.
"India Needs China"
In Deepak's eyes, a rising China has become an important factor in ChinaIndia relations. "China's rise is changing international political and economic landscapes and global power structures, and India should be aware of this fact," he noted. "Many Indian scholars envy China's achievements in development, namely lifting more than 700 million people out of poverty in only a few decades, but they are now afraid of a rising China. India pays close attention to China's increases in defense spending. In fact, the increases are results of the economic miracle China created. India will also be able to invest greater funds in national defense if its overall strength is remarkably enhanced."
Since the beginning of 2016, China-In dia relations have continuously deteriorated due to disagreements on issues like fghting terrorism, India's entry into the Nuclear Suppliers Group (NSG), the Belt and Road Initiative, border disputes and issues concerning the Dalai Lama. During last year's Diwali festival, a campaign against Chinese imports swept across Indian social media platforms. Deepak believes that such phenomena reflect the nationalist ideology advocated by the Modi administration and the Bharatiya Janata Party, which is becoming another major factor impeding the improvement of China-India ties.
"The 'nationalist' tendencies of the Modi administration have caused minor disputes to become big problems," Deepak explained. "This isn't a smart way to operate, and China-India relations shouldn't be hijacked by such problems. Neither antiterrorism efforts nor India's entry into the NSG should top the agenda of bilateral ties. The savvy strategy is to tackle bilateral relations from a broader perspective, with the changes in the global political power structure considered. A narrow view benefts neither party, undermines bilateral relations and exacerbates mutual distrust."
Despite the constant twists and turns in China-India relations, the two countries share many commonalities in economic development strategies. India's domestic connectivity plans are in sync with the Belt and Road Initiative, and China's economic transformation may beneft from the "Make in India" plan. A promising future for economic and trade cooperation between the two countries awaits. More than 500 Chinese companies have already registered to do business in India. Of the world's major economies, India has become the destination where China's overseas investment has seen the fastest growth. In 2016, Chinese investments in India totaled US$1.06 billion, six times that of the previ ous year. "Although India has never publicly expressed its willingness to join the Belt and Road Initiative, the Modi administration has taken wise steps to promote practical cooperation," remarked Deepak. "The agreements signed by leaders of the two countries during their mutual visits involved cooperation between enterprises from both sides."
Deepak pointed out that in the feld of energy, especially electricity, Chinese and Indian enterprises have worked closely with each other. About 80 percent of India's power equipment comes from China, and many Indian industrial giants, including Reliance Industries, emerged with the assistance of Chinese companies. Similarly, India is known as the "pharmacy of the world," but the low cost of Indian medicine can be largely attributed to the fact that 90 percent of their raw materials are imported from China. India's pharmaceutical industry would be severely impacted if China stopped exporting raw materials. "China has played an important role in India's economic development," commented Deepak. "Although bilateral trade volume remains less than ideal, the two countries are already good partners. We'll see better results if the two sides fnd more ways to cooperate in economic and social development and dock their respective development strategies."
In early March of this year, scholars from the New Delhi-based Vivekananda International Foundation and the U.S.-based Hudson Institute called for enhanced collaboration between India, Japan, and the U.S. at a conference on future India-U.S. relations, which caused a buzz. According to Deepak, the security gap between China and India will further widen as New Delhi cozies up to the U.S. and Japan. "However, India will defnitely not become a sidekick of the U.S. because it considers itself a big power and hopes to play an independent role in international affairs," he added.
Using Literature to Understand China
Serampore is a small town in Calcutta, capital of the eastern Indian state of West Bengal. Its name is obscure to the vast majority of Chinese people. In 1809, the earliest English version of China's Confucian classic The Analects was printed there. British missionary Joshua Marshman translated the frst nine chapters of The Analects into English. Thirteen years later, in 1822, he published the frst Chinese version of the Bible in the Indian town.
This episode of history drew Deepak's attention when he studied China-India relations. He explained that India had already launched a program on Chinese language training in the 19th Century while the country was under British colonial rule. However, the program was suspended due to a lack of students. In 1921, Indian Nobel Laureate Rabindranath Tagore founded Visva-Bharati University in Santiniketan and invited several sinologists to teach Chinese culture. Tan Yunshan, hailed as a "great scholar" by former Indian Prime Minister Indira Gandhi, was among them. He founded the magazine Sino-Indian Studies and established the Cheena Bhavana (Institute of Chinese Language and Culture) in 1937. Many old books in the university's library were brought there by Tan from the Chinese mainland during the Republic of China period (1912-1949).
But Deepak expressed regret about India's minimal efforts to teach the Chinese language and translate Chinese works over the past decades, calling them "disappointing," especially considering that translated versions of Chinese classics had already appeared in India two centuries ago and ancient generations of Chinese and Indian scholars were committed to promoting cultural exchange between the two countries. Currently, the two sides lack formal dialogue mechanisms in areas like university cooperation, media communication, and tourism. Language barriers and insuffcient communication are directly hindering mutual trust and the development of economic relations.
Deepak showed deep interest in Chinese literature, especially ancient works. He became the frst Indian to translate an anthology of classical Chinese poems into Hindi. In 2009, he published Chinese Poetry, which featured 88 ancient poems dating from the Spring and Autumn Period (770- 476 BC) to the Yuan Dynasty (1271-1368), translated into modern Hindi. He has a profound understanding of Chinese literary classics. In his eyes, Li Sao by poet Qu Yuan (340-278 BC) of the Warring States Period (475-221 BC) has an elegant writing style, poems of the late Tang Dynasty (618-907) resemble ci, a form of classical Chinese poetry popular in the Song Dynasty (960-1279), and classical prose before the Qin Dynasty (221-206 BC) is immersed in populist ideology. "Those literary works demonstrate the many aspects of Chinese society," concluded Deepak. "They mirror Chinese civilization and culture."
Deepak believes both China and India have long been neglecting cooperation in publishing. Within the nearly two hundred years since Marshman translated the frst nine chapters of The Analects into English, Indians haven't translated many other Chinese classics into Hindi. About a dozen years ago, Deepak began translating the four Confucian classics—The Great Learning, The Doctrine of the Mean, The Analects, and The Mencius—into Hindi. The translation proceeded slowly, given cultural differences between the two countries. Furthermore, those books were written in ancient Chinese, which is hard to read even for well-educated modern Chinese people. Based on what he learned from an ancient Chinese class during his stay at Peking University, Deepak eventually fnished the translation project with the help of dictionaries, the internet and references from other foreign-language versions.
Finally, in 2013, the two countries launched a high-level project on translation and publication of Chinese and Indian classics and modern works. As the head of the Indian side, Deepak was a central voice in the selection of Chinese works to be translated, and the four Confucian classics he completed were included in the project. Another 24 classical and modern Chinese literary works that had never been translated into Hindi, such as Dream of the Red Chamber and White Deer Plain, were also included. The fnal Hindi manuscripts of Chinese books such as Rickshaw Boy, To Live, and Little Red Flowers have reached the desks of publishers and are expected to hit shelves soon.
Many of Deepak's Indian students have shown great interest in classical Chinese culture of the Tang and Song dynasties, but fail to deeply understand them due to limited Chinese language abilities. Even so, Deepak still considers it meaningful to spread classical Chinese culture in India because it is the "gene of Chinese civilization." "If Indians can touch Chinese culture, they can better understand China, which will enhance mutual understanding and friendship."