Message of the BRICS Summit
BRICS made it clear that existing international institutions were flawed, and it would offer its members a forum for leadership, cooperation, and information-sharing.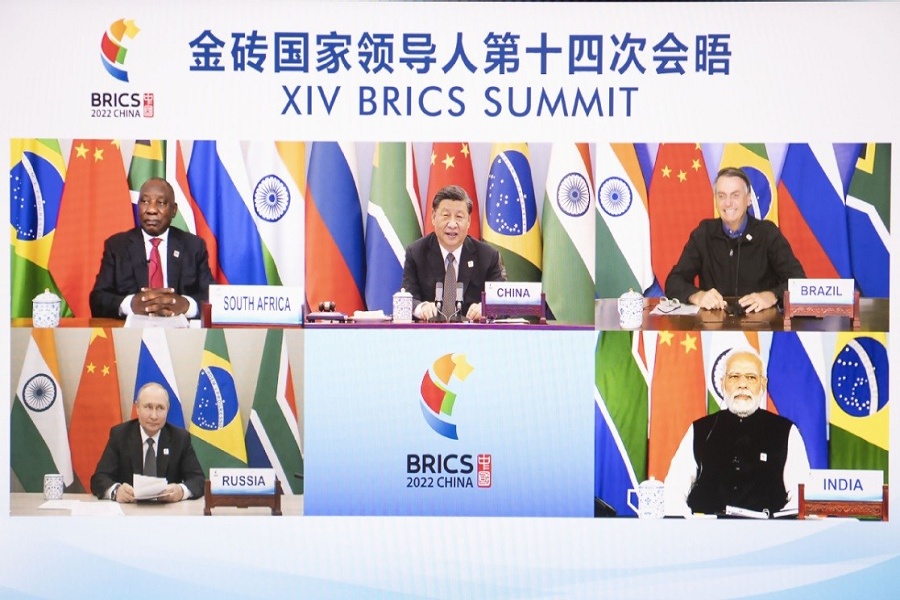 The 14th BRICS Summit was hosted virtually by China this year amidst the turbulence in the international order, heightened by the Ukraine crisis and the hardening of Western positions, leading to the making of competitive plurilateral fora.
The summit covered intra-BRICS cooperation in areas such as counter-terrorism, trade, health, traditional medicine, environment, science and technology innovation, agriculture, and technical/vocational education and training. This year's agenda covered a range of topics, but the emphasis was given to renewing multilateralism for global economic recovery, deepening coordination on climate action, and strengthening coordination on pandemics and public health.
On May 20, the "BRICS Plus" Foreign Ministers' Dialogue was held virtually, at which BRICS countries' foreign ministers were joined by representatives from Argentina, Egypt, Indonesia, Kazakhstan, Nigeria, the United Arab Emirates (UAE), Saudi Arabia, Senegal, and Thailand. These invitees could be called the future members of the BRICS.
Established in 2006, BRICS graduated to a summit in 2009. Since India, Brazil, and South Africa (IBSA) summits were held alongside, South Africa became a logical member of BRICS in 2011. Right from its first communiqué, BRICS made it clear that existing international institutions were flawed, and it would offer its members a forum for leadership, cooperation, and information-sharing that had been denied to them.
New Era for Global Development
BRICS considers this an appropriate time to expand its presence as part of its strategic response to the challenge of the U.S.-led international order and to collect moderate powers around them. Hence, the 2022 theme "Foster High-quality BRICS Partnership, Usher in a New Era for Global Development" was not accidental.
Despite Western foreboding, BRICS implemented its 2012 decision at the Delhi summit to form new financial institutions, establishing the New Development Bank (NDB) and the Contingent Reserve Arrangement (CRA) in 2014. The NDB is the first multilateral development bank founded by developing countries. It has established partnerships with other development banks, such as the Asian Infrastructure Investment Bank (AIIB) and the World Bank, and is trying to be more attractive to developing countries than Western banks. It lends in local currency, which protects the borrowing country from the stronger U.S. dollar, and allows borrowing countries to set the standards for environmental and social compliance rather than having such standards imposed on them. The CRA, with a capital of more than US$100 billion, is meant to help members withstand any short-term balance-of-payment pressures.
The NDB expanded membership in 2021, admitting Bangladesh, the UAE, Uruguay and Egypt. So far, the bank has disbursed US$30 billion for 80 projects in its member countries. Of these projects, 21 are in India in sectors from transport, water and sanitation to clean energy, as well as digital and social infrastructure, involving US$7.1 billion. The NDB has established an Indian Regional Office just two days before the summit, and D.J. Pandian was appointed as director-general of the new office. Pandian previously served as Vice President and Chief Investment Officer at AIIB.
In late May, Russian Foreign Minister Sergey Lavrov said that Saudi Arabia and Argentina are deeply interested in joining BRICS. The Ukraine crisis saw fissures emerging in the G20 and adding new members to BRICS could make it an alternative minus the U.S. and its allies. This could also mean BRICS overtaking the G7 earlier than expected.
The first likely criteria in admitting new members will be to give priority to G20 members. Argentina, Indonesia and Saudi Arabia would qualify from there. For the UAE and Egypt, their NDB membership is a qualifier. Kazakhstan was invited to the May 20 meeting as the largest country in Central Asia. Nigeria is an important African economy. Senegal is the current chair of the African Union. Thailand is the chair of the APEC and the G20 is chaired by Indonesia.
India's Position
India has shown ample realism by refusing to denounce Putin over Ukraine because it knows on which side the oil tanker is anchored. The Indian economy is not robust and New Delhi will remain engaged with China.
The five BRICS nations together represent 40 percent of the global population, 24 percent of the world's GDP and 16 percent of global trade. China is the largest economy in the grouping, accounting for more than 70 percent of the group's collective US$27.5 trillion economic might. Buffeted by the pandemic, none of the BRICS economies is predicted to expand except for China's. Thus, India cannot afford to stay out.
India's economy is suffering as it comes off the COVID-19 pandemic coupled with Ukraine aftershocks. It cannot jeopardize the lives of its population by refusing to buy discounted Russian oil and other energy products that have been shunned by European countries following the sanctions. Moreover, Russian companies are accepting payments in Indian rupees and UAE dirhams. India is the largest importer of Russian defense equipment. While the Ukraine crisis has seen U.S. allies reduce their Russian imports, India has increased it.
Predictably, the Indian Ambassador to China Pradeep Kumar Rawat met Chinese Foreign Minister Wang Yi a day ahead of the summit. This was Rawat's first meeting with Wang after he took charge as India's new envoy to Beijing in March. A Chinese Foreign Ministry statement quoted Wang as saying that China and India's common interests far outweigh their differences, adding that the two sides should support rather than undermine each other, strengthen cooperation rather than guard against each other, and enhance mutual trust rather than be suspicious of each other. Wang had visited India in March during which he held talks with Indian External Affairs Minister S Jaishankar and Indian National Security Advisor Ajit Doval.
Challenges Ahead
The summit would be interpreted by the West as they have been unhappy with all BRICS members resisting the U.S.-led campaign to denounce Russia and slap sanctions. China's and India's insistence on independence from the U.S.-led order jells well with Russia's anti-U.S. stance.
BRICS continues to remain beneficial to its member states. Each country's top leader attends the summit every year, and before G20 summits and IMF and World Bank meetings, BRICS members hold preparatory meetings to discuss their stance.
U.S. President Joe Biden's signature economic initiative unveiled last month in Tokyo showed Western-sponsored states consciously diversifying their supply chains away from China and forming new standards-setting agreements such as the Indo-Pacific Economic Framework, or creating setups that are trading mutually to ensure "safe and reliable" flows of energy-critical material, minerals, and rare earth components.
But the challenge is that there is a growing number of alternatives for the developing countries, whether it is the free and open Indo-Pacific Vision with emphasis on infrastructure connectivity, standard-setting, healthy infrastructure, tools for good governance, or alternative financings, such as Japan-led and EU-led infrastructure connectivity projects.
The U.S. strategy in containing China has focused on security, whether through the Quadrilateral Security Dialogue, NATO, or the AUKUS deal. But China is focused on an economic response through infrastructure, investment, and befriending developing countries. Hence it is not easy for U.S. President Joe Biden to check China's quantum jump. The global order is no more a monolithic entity; it comprises several blocks of power that attempt to influence. This is the clear message of the BRICS summit.
The author is a reputed Indian writer, editor, columnist and scholar.