My Story with BRICS Countries
For a Closer Partnership through People-to-People Exchange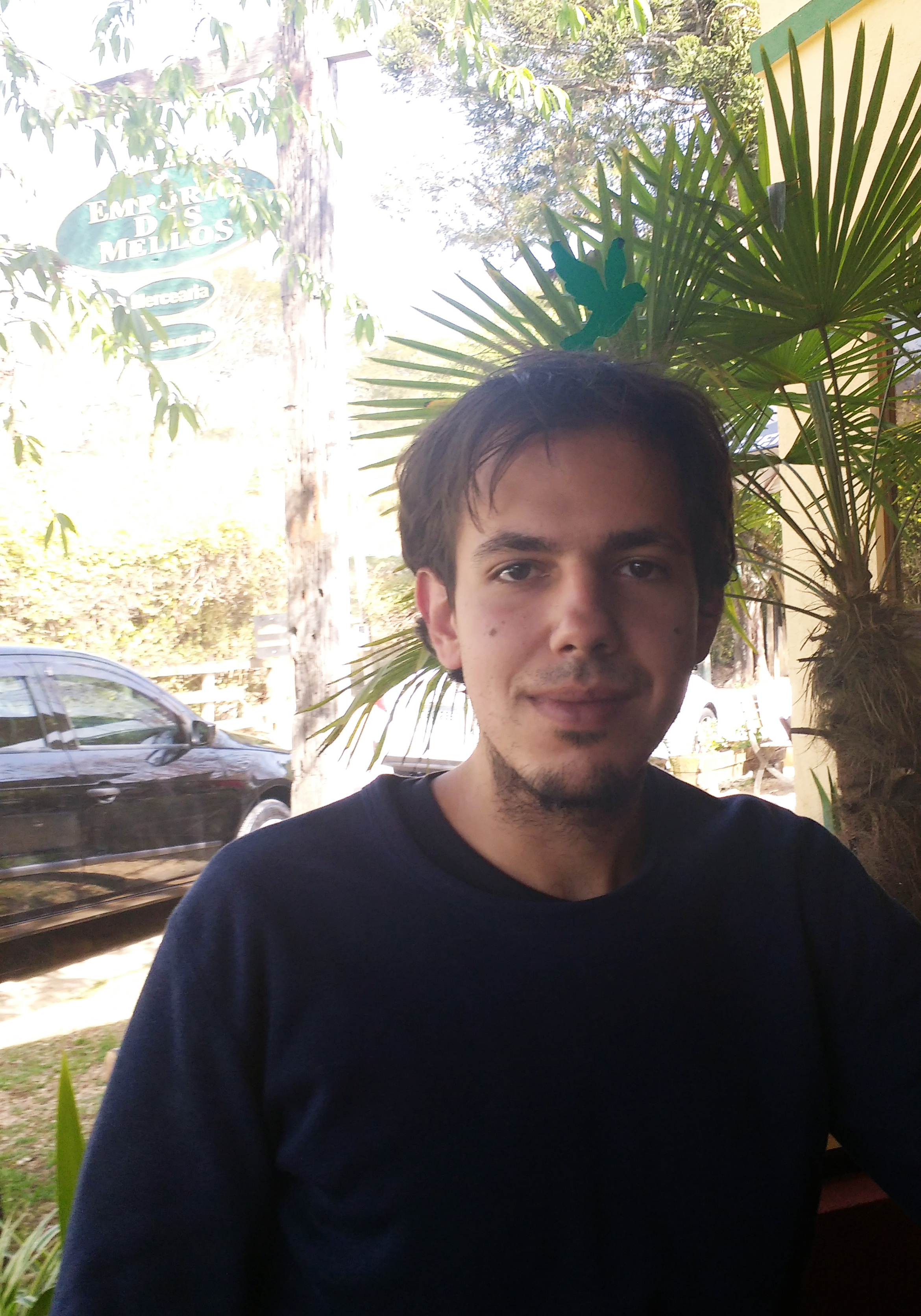 Exchange Student to China: An Unforgettable Experience
Name: Marcelo Medeiros
Age: 26
Occupation: Student of Chinese language and literature at the University of São Paulo, Brazil
Birth place: Brazil
Current residence: São Paulo, Brazil
In late July 2016, I left São Paulo on a journey to Xi'an International Studies University. After a 20-hour flight, two other Brazilian exchange students and I finally arrived at Baiyun airport in Guangzhou, China. After deboarding the plane, we headed to Guangzhou railway station for another 7 hours on a high-speed train. Though the trip was very long, it wasn't boring at all – stunning landscapes outside the window escorted the train to its destination. Traveling from south to north, the moist climate gradually became arid, and the sky turned more and more clean.
Many people visiting a new place tend to compare it to places they have been before, and I am no exception. At first glance, I compared both Guangzhou and Xi'an to the Chinatown in São Paulo. However, I eventually discovered a plethora of surprises.
First was the diet. Xi'an's cuisine, compared to Chinese dishes I have eaten frequently, such as fried rice and spring rolls, seemed completely different. Spicy, sour and salty are the most common flavors of Xi'an dishes. Liangpir (cold rice noodles dressed with sesame sauce and pepper) and Roujiamo (also called the "Chinese burger") are maybe the most popular Xi'an specialties throughout China.
Then there was the language. When Cantonese speakers speak mandarin, it sounds soft and slow. The Xi'an accent is much faster and more "stiff". Moreover, they like to add an "er" to the end of words (which is also common in Beijing). When I had just arrived in Xi'an, it was very difficult to communicate with locals. I couldn't understand anything out of their mouths, nor could they my words – the dialect was unlike anything in my Chinese language books in Brazil.
Although the food was different and environment unfamiliar, I quickly became accustomed to both. Day by day, things transformed from trouble into joy. The new food and language made my life in China more enjoyable.
Furthermore, I was absolutely stunned by the city's history. There are plenty of museums in Xi'an. Historical buildings like the bell tower and drum tower still stand and play pivotal roles in citizens' lives as they evidence the city's lustrous history dating back to the Western Zhou Dynasty (c. 1046-771 BC). The city's river of history still flows strong.
I long believed that Chinese people in general tend to avoid friendship with foreigners. But in China, I discovered that most people are very kind and easygoing. Even if they speak shyly, they likely have warm and friendly hearts. I made many great friends in China with whom I still keep in touch.
I continued thinking a lot about China after returning to Brazil. Many habits that were formed in China have persisted. I drink a lot more tea now, and often invite my friends to join me. When bidding farewell to friends and relatives, I walk them to the gate or bus station. These small details mean a lot to guests.
I will always miss the great time I had in China. I will definitely return the first chance I get.
Chinese Ice Hockey
Name: Stepanov Dmitry
Age: 25
Occupation: Master student of journalism, East China Normal University
Birth place: Moscow, Russia
Current residence: Shanghai, China
Hockey is my favorite sport. While studying in Shanghai, China, it was wonderful to discover that hockey is becoming more and more popular there.
Hockey has a long history. At the end of the 19th Century, Canadian boys started to chase the puck across frozen ponds. In the mid-20th Century, this strange Canadian game immediately captured the hearts of millions of Russians and remains one of the most popular sports in the country.
Hockey tends to be more popular in northern places, so I assumed it would be difficult for the sport to be introduced to warmer locales in the South. I was shocked to discover that this amazing game was gaining traction in a country full of passion and energy: China.
Hockey has been in China for just a few years, but its fanbase expands every year. Moreover, the sport is even creeping further south to cities like Hong Kong and Macao – places that seem too hot for such a game.
China now faces the difficult, but exciting challenge of developing a national hockey school. To strengthen its own hockey, the Soviet Union established such schools in the 20th Century. The schools developed as Russian coaches and players innovated new exercises and playing styles, designing Russian hockey with successful tactics of football, basketball and handball. As a nation with considerable hockey experience, Russia could help China in this regard. Now, the managing directors of the KHL and the General Administration of Sport of China are seeking plans to develop hockey in China, popularize the sport, teach Chinese children and recruit a national team.
The work has just begun. The KHL offers master classes in various Chinese cities, not only to kindle Chinese hockey, but also to learn the country's emerging strengths in the sport. Russian coaches were eager to share all the traditions of Russian hockey. Fortunately, Chinese players are quick learners. They made a fast progress in both skating technique and puck control.
China is well on its way to the creation of a hockey school, which is an exciting development for Chinese kids. When I watch them training, I can see the interest and hockey hunger in their eyes. Many, or even all of them, must be dreaming of playing hockey professionally, representing China and playing for the national team. And now they finally can do it. Through a hockey school, they will learn more about the traditions and secrets of hockey.
Russian and Chinese children teams already play against each other in tournaments. Kunlun Red Star, the first Chinese hockey team in the NHL (National Hockey League) system, has embarked on its first season. In the future, hockey will continue spreading to many countries in Asia. The KHL is planning to create a children's championship featuring teams from Russia, China, Japan, Korea and North America.
The Winter Olympics will be held in Beijing and Zhangjiakou, China in 2022. Hockey will surely be one of the important events of the games. I hope that both the Russian and Chinese hockey teams perform excellently in the tournament.
South Africa Through Indian Eyes
Name: Karan Bajaj
Age: 26
Occupation: Development sector consultant
Birth place: Mumbai, India
Current residence: Mumbai, India
As a self-proclaimed Afrophile, I'm ashamed to admit that I did not know much about South Africa before going there on a 10-day holiday last August. I had been to Ethiopia, Kenya and Zambia but nowhere could have prepared me for how breathtaking the Western Cape region in South Africa is. Nestled between mountains and two oceans, Cape Town is by far the most stunning city I have ever visited. Even though South Africa was most recently ruled by the British, its Dutch influence is more pronounced than any other external culture. Cape Town is a city that should rate as a paradise my most standards: the ocean, mountains, fantastic weather year-round, ultra-chic houses and fabulous restaurants and bars. Who wouldn't want to live in this city?
However, I must also add that all this beauty is still draped in the shadow of two factors that have shaped the narrative around South Africa in the recent past: racism and wealth inequality. South Africa has tremendous economic potential given its vast reserves of minerals such as gold, diamonds and platinum and excellent infrastructure and has already developed into an established hub for many multinationals. However, the country hasn't been able to live up to its potential as a high-growth nation mainly because its wealth distribution is so lopsided, and they are also battling widespread corruption. It is sad that this country has still yet to recover from the apartheid era – the gap between whites and blacks and the haves and have-nots was very prominent in every town I visited. Perhaps most striking about Cape Town is that its mansions lining the beach, some of the prettiest in the world, are situated less than 10 miles from some of the world's most dangerous ghettos, known as the flatlands.
Despite being the only BRICS country in Africa, South Africa is not exactly representative of the continent considering its unique economic trajectory compared to its neighbors, not to mention its unique culture. Despite geography thousands of miles away from the nearest European capital, the vibrant country seems more culturally bound to Western Europe than many places on the eastern side of that continent.
South Africa also happens to be the birthplace of two of my role models: Elon Musk, who constantly reminds me that I'm not thinking big enough, and Roger Federer, whose passion for tennis should be a benchmark for any endeavor in life. Both of these individuals immigrated to Western countries to get where they are today and achieve their full potential. However, such stories will not be the norm in the future. I will eagerly watch for more South African stars with bated breath and wait to see more successes from South Africa.
Meditation to Understand India
Name: Li Cheng
Age: 31
Occupation: Student, graduated from the Social Science Department of the Tata Institute of Social Sciences (TIIS), India
Birth place: Xi'an
Current residence: Berlin
Acquiring true understanding of life in India is a joyous process that must be accompanied by the ancient and melodious Sarod tune to the brisk and cadenced rhythm of Dholak.
Just mentioning the word "India" brings to mind numerous gods and a mysterious history. Its iconic cultural elements include dialogue rituals between human and divine at dusk in Varanasi, the division of life and death represented by burning corpses floating on the Ganges River alongside live Hindus bathing in it, the persistence of the Sadu to detach from their body to refine the soul, tea farmers' reciting Tagore poems in Assam and meditation lasting for as long as a week.
Outside opinions of India tend to swing between either burning passion or little interest at all. However, any love or hate of India is surprisingly similar: Laid-back people enjoy the quiet atmosphere and things like people reciting scriptures in various temples anytime and anywhere, while the impatient people can't tolerate waiting at all. Those desiring spiritual detachment sit and meditate anytime and anywhere, while champions of modern science scoff. Those with open mind start to grasp an understanding the diversity of slum culture, while others just write it off as chaos.
People tend to view some separation between "modern India" and "ancient Indian civilization." The former refers to India as a modern nation from the common secular understanding. However, the latter should be viewed from the perspective of civilization, spirit and philosophy rather than a secularist mindset. Unfortunately, many people have been blinded by the secularism. In any discussion of India, you will always hear some critical voices on political and economic issues. In the modern context, India has been frequently viewed as a poor, backward, and even barbaric country. Especially during the Orientalism movement in Europe in the 19th Century, colonialists narrated a secular India to the whole world from the perspective of so-called civilized men, a first impression which solidified rigid images of Indian civilization in the Western World and informed the secular understanding
of India.
The development of modernism has inevitably moved in a monolithic direction. But it is essentially insulated from the diversity of Indian culture. Years after I left India, I one day suddenly felt true understanding of the axiom that by visiting every country in the world except India, you would understand about half of the world—especially in a mental sense. Since I left India, I have remained close to Indian literature, philosophy, religion, phonology and thought. What I miss most about India is the vanishing non-secular values, ways of life and thinking. Now, even though I have strayed far from India, whenever I feel tired I can still took out Tagore poems to comfort my impetuous mind and soul.
Mandarin Making Friends Around the World
Name: Lebone Kgengwenyane
Age: 17
Occupation: Student at Pretoria Chinese School
Birth place: Atteridgeville, South Africa
Current residence: Pretoria, South Africa
The first I heard of the Chinese Bridge competition was in 2007, when I was in my first Mandarin Chinese class. After many years, I had developed great love and passion for the Chinese language and culture. I asked my Mandarin teacher about the Chinese Bridge competition.
My mandarin teacher explained that it is a Chinese proficiency competition for foreign students learning Chinese all over the world, which can motivate learners to perfect their Chinese and get more familiar with Chinese culture. The Chinese Bridge competition allows foreign students to come together around the beautiful language of Mandarin. After selecting contestants by Chinese language skill level, Chinese national knowledge, Chinese cultural skills and comprehensive learning ability, standouts get an opportunity to win a scholarship to study in China. It sounded amazing!
I saw the positive influence the competition had on the contestants' personalities and character. It teaches you to be strong, responsible and socially interactive.
I told my mother about the event and she encouraged me to one day sign up. For some reason, I knew 2017 would be my year.
On Friday, August 4, all contestants were invited to a dinner to mingle and get to know each other as well as draw lots to determine the competition order. The actual competition took place the next day on August 5 and began with a written test followed by prepared speeches and a talent performance.
I was very nervous when giving my speech. As a foreign student, memorizing it required a lot of time, effort and determination. Nonetheless, I believed in myself and in the hard work that my teachers and I put in. My topic was "Through Mandarin we make friends around the world." To my amazement, I received the top mark in this event.
After my speech, all that was left to do was impress the judges with my talent. I recited a poem about the famous story of Mulan followed by a martial arts performance. It was my first recitation of Chinese poetry. More than memorizing the poem, the challenge was understanding the depth and background. My work in these realms allowed me to use the right body language and facial expression to emote—it turned out fun as much as difficult. I really enjoyed it! My love for martial arts started in primary school during a Chinese culture camp where we got to do Chinese traditional dancing, calligraphy and martial arts. I got very interested in all
of them.
When my name was announced as the winner of the preliminary contest, all I could do was sit in shock as my teachers and parents came to hug my partner and me. I was so happy and pledged to redouble my efforts for the next competitions. I will pursue Mandarin in college and make sure I find work that requires speaking Mandarin. From my experience studying Chinese, I learned that.