A Bittersweet Goodbye
Digital technology has created a marketing battlefield and squeezed out the medium of film.
by
Chen Chen and Xue Song
At the end of September 2016, news from Shanghai Film Technology Plant (SFTP) spread across China: The studio's final cine-film processing and printing line would wrap by the end of October.
Founded in 1957, SFTP is attached to Shanghai Film Group, one of the largest and most influential movie studios in China. As the first company in China to establish a professional film processing base, SFTP once led movie processing in annual output while releasing many Chinese classics such as Railway Guerrillas, Given the Choice, and The Letter with Feathers. Additionally, the company produced dubbed and subtitled versions of many imported blockbusters.
Cine-film production seems to be ebbing in China, as SFTP's announcement follows news of the closure of the film processing lines in two other major Chinese studios: Changchun Film Studio and Beijing Film Processing Technology Plant.
Pinnacle to Decline
The problem can be traced to SFTP's Film Processing and Printing Department, the heart of the plant. "The department peaked in 2002 when China began to implement market reform of movie production," explains Chen Guanping, director of the plant. "From 2002 to 2010, eight production lines were operated by over 100 workers. The emergence of digital technology has upended the cine-film industry and led cine-film processing down a slippery slope. In the past four years, over half of our film processing and printing lines were shut down, and the last one will be gone soon."
"There is nothing we can do," continued Chen. "Digital technology has created a marketing battlefield and squeezed out the medium of film. We must switch everything to digital."
According to Chen, two or three film printers will be kept, but after a couple months of inactivity, they won't operate normally anyway.
Qian Shun'an, 60, has been working with the film processing and printing line for 39 years. "In 2009, we had so much work that no one had a spare second to chat at work," he recalls. "Today, only three of us remain. We are working on film prints for toy slides instead of movies. We won't have anything to do in a few days when all photographic film in stock is used up."
Digital Transfer
Crosscurrent, directed by Yang Chao, is considered the last Chinese movie shot on film. It won the Silver Bear for outstanding artistic contribution (camera) at the 66th Berlin International Film Festival in February 2016.
The process of shooting on film in the modern era is only a shell of its former self. When shooting a movie, a director only sees a barren frame compared to the final product. "During early production, I see only about one percent of the final product," explains Director Yang Chao.
Traditionally, when one roll of film is used up, shooting must stop until the loader refills the camera. "Loading requires extreme care," Yang continues. "To prevent film from being exposed to light, the loader has to cover the camera with a bag with two small openings for his hands and unload the film without sight and store it in a sealed canister. It has to be kept from light until it can be developed. The loader's job was crucial to the film production process."
Exposed film must be kept in a refrigerator, and it is usually sent back to the studio to be converted into digital files. A deliverer has to shuttle back and forth during shooting.
"Working with film makes production more tedious," remarks Yang Chao. "Working with digital cameras is totally different, and it makes everything clearer visually." Mark Lee Ping Bin, a veteran photographer from Taiwan, agrees with Yang. "Shooting digitally is less creative because you don't have to plan each shot explicitly. The movie comes together before your eyes."
Perpetual Legacy
If he were starting production on Crosscurrent today, Yang Chao would not have chosen to shoot on film. "Digital technology can now do everything we did on film," he asserts. "I do miss it though. But everything is more efficient now thanks to digital technology. So it's a bittersweet goodbye."
Yang believes that despite cine-film slipping into obsolescence, its aesthetics are alive: Digital processes have preserved the texture and aesthetic concepts that the former medium popularized. Digital movie production techniques only create a wider range of possibilities for creators with very specific ideas.
Film restoration will continue even after the processing and printing lines at SFTP shut down. Every year, SFTP receives many old films to be restored or duplicated for preservation.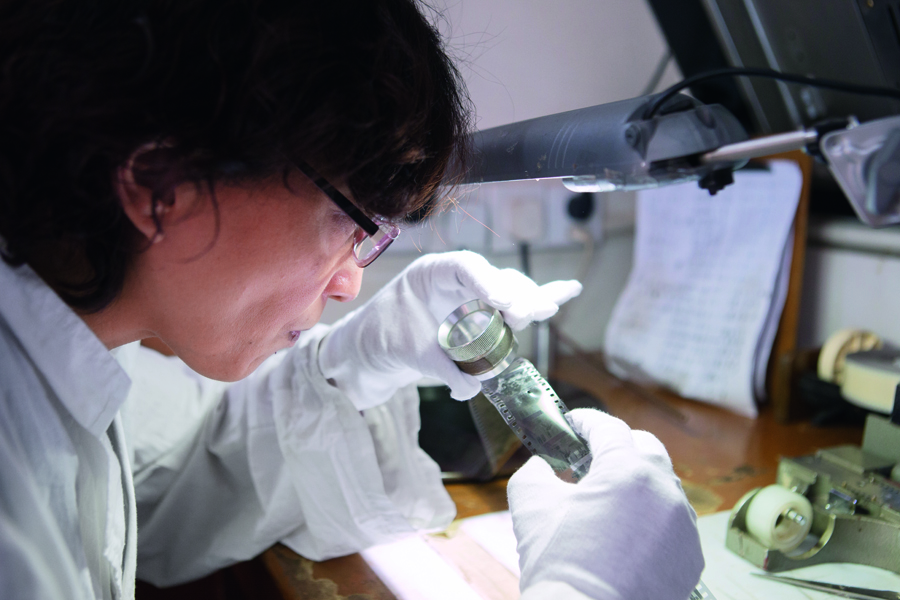 Employee Hu Yu'e has been working at the plant for more than 30 years. "Even though our duties have shifted from postproduction to restoration, we are as enthusiastic as ever," she insists.
A handful of A-list directors, including Quentin Tarantino and Christopher Nolan, insist on continuing to shoot on film. Their films in recent years, including Tarantino's The Hateful Eight and Nolan's Dark Knight Rises, Inception, and Interstellar, were all shot on film.
The emergence of digital technology has made everyone a potential director, creating bigger space for future of movies.
"Cine-film's time is over," sighs Chen Guanping. "The most important thing is total devotion to your movie regardless of the production process."
In this sense, the aesthetics of film will be preserved long after the medium itself slips into obscurity.