A fortune at hand: Yunnan innkeeper's road out of poverty
Tucked in a remote hamlet called Laomudeng in southwestern China's Yunnan province, Yu Wulin's guesthouse looks tidy, cozy, and sometimes exotic given its bamboo-made roofs and floors. In the Nu di...
Tucked in a remote hamlet called Laomudeng in southwestern China's Yunnan province, Yu Wulin's guesthouse looks tidy, cozy, and sometimes exotic given its bamboo-made roofs and floors.
In the Nu dialect, Laomudeng means "the place people love to go." The hillside village, surrounded by tall mountains and green fields, is best known for its perfect location to take in the view of the Nujiang Grand Canyon.
However, the 43-year-old Yu had not always dreamed of being an innkeeper, and he grew up a farmer like most of his neighbors in the long impoverished region.
Prime real estate
Yu recalls his family to be quite poor when he was a boy. As the fifth and the youngest child in the Nu ethnic family in one of China's poorest areas, he grew up with little food and clothing, and even had no shoes.
What they did have was an extraordinarily picturesque view from their windows: A steep valley and a winding river--the famous Nujiang River. The place remains primitive and intact from the world's hustle and bustle for many years. The only sign of touch by the outside world was a church built by French missionaries more than 100 years ago.
Yu's home sits nearest to the church, and in the 1990s, he began noticing backpackers who trekked muddy roads to reach the remote village. Many asked his family for lodging and dining, and paid cash in gratitude when they left.
Still, Yu had yet to consider it as a money-making opportunity.
"We were just curious and wondered why they had nothing to do but backpacking in such a remote village," he said.
Yu dropped out of high school in 1996 and went to Shanghai as an ethnic singer. That was the first time he went outside of the village. Seeing the metropolis was certainly a novelty to Yu, but homesickness grew day by day until he decided to go back to Laomudeng at the end of 1997.
He married a girl of Dulong ethnicity who he met in Shanghai, a co-worker from the performance troupe. After coming home, they toiled in the farm, but found that they could barely make ends meet.
He said, "Then we lived in a bamboo house. With little financial resources, we could buy new clothes for kids only once a year, and could hardly afford to go to the county's town."
A helping hand
Things began to change in 2000. The local government granted aid to local residents in order to promote tourism. The couple was the first in the village to run a guesthouse.
"The experience of working in Shanghai had broadened my horizon and given me opportunities of making friends," Yu said.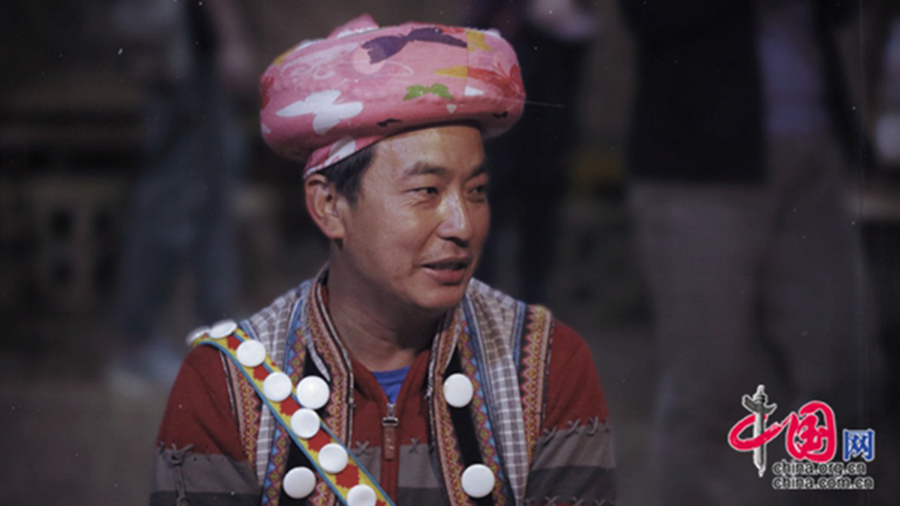 Some of those friends helped him manage the digital end of his business. Yu also became fluent in Mandarin, a precious skill in his ethnically diverse hometown where most people communicate in the local dialects.
Meanwhile, Yu's hometown was also getting a helping hand. Yunnan's Nujiang has been one of China's poorest western areas, and the central government has targeted the area for development.
The government helped the local dwellers build houses, pave roads, and gave them access to running water at home.
Yu said, "My success of running guesthouses was largely attributed to the favorable policies and support from the government."
As more and more tourists came to visit the village, he expanded his inn with more rooms in 2012. To help him install expansion, the local tourism bureau granted him 50,000 yuan (US$7,430)of subsidies, and the county government gave him 10 tons of cement.
When his 11-room inn couldn't accommodate more customers, Yu opened his second inn in 2017, with a low-interest bank loan of 2,700,000 yuan.
The inn was built to be more modern, complete with clean toilets, Wi-Fi, and a common area to allow different groups of guests to eat together and sit around an indoor fire pit.
As an enthusiastic music lover, he often shows guests the traditional Nu ethnic dance and instrument, together with local folk performers, bringing them a taste of his culture.
The upgrades allowed Yu to charge a premium rate--260 yuan a room, compared to 20 yuan a bed at the beginning. His annual income has since risen to 400,000 yuan, a small fortune in the area.
Setting an example
Yu's establishments employ dozens of local villagers, including some of his relatives. He pays them monthly salaries of about 2,000-2,600 yuan.
His success also inspired followers. Eighteen households in the village have since opened guesthouses, and the once shanty-filled village has become all brightly painted houses furnished with sofas and TVs.
"Yu is always ready to help others whenever his peer villagers run into difficulties in operating a guesthouse," said Bian Jianwen, a Fugong county official. "They would also meet from time to time to discuss business and things they could work together on."
Local schools provide free tuition during the 14-year compulsory education scheme. Yu's two sons are majoring in hotel management at a technical secondary school in the capital city of Yunnan. Yu said his own education ended after middle school.
"I hope they will come back after graduation and help to run my guesthouses," he said.
Source: China.org.cn