Drawing Water from Air
Watergen will continue to tap the great potential of the Chinese market.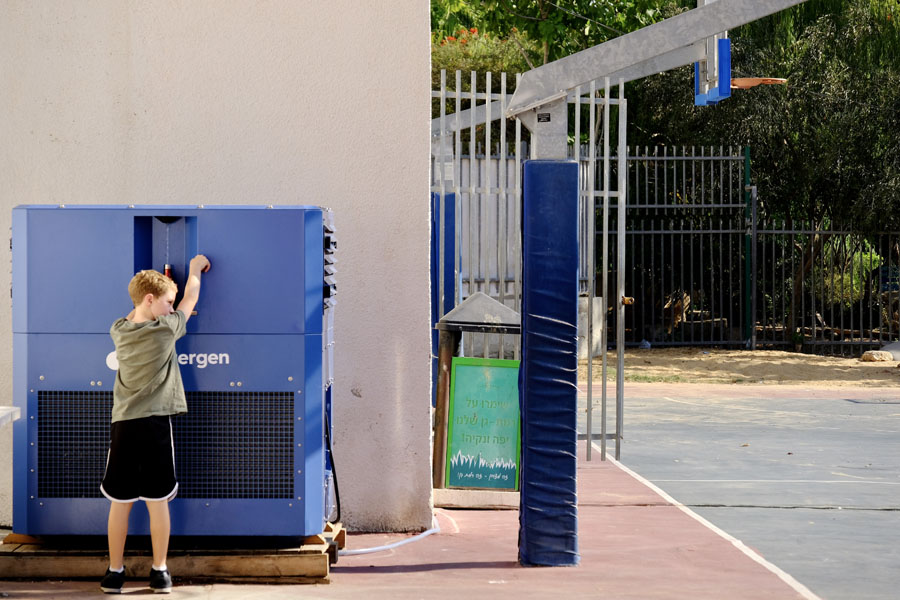 Can mineral water be produced from the air? This is what an Israeli company is doing.
In November 2019, a device using air to produce water, created by the Israeli company Watergen, became an attraction in the equipment sector of the second China International Import Expo (CIIE) held in Shanghai. The machine that looks like a normal water dispenser was placed in a conspicuous place. Many passersby got some water from the machine to drink. The water dispenser "Jenny" has a power supply but no source of water.
"Our machine makes mineral water out of the air only with power on," said Ivan Melnikov, the company's chief representative in China.
Founded in 2009, Watergen participated in the CIIE for the first time last year. According to Melnikov, the company got in contact with over 200 Chinese enterprises and reached agreements of intent on cooperation with over 70 companies during the second CIIE. He argued that the idea of making water out of air hasn't been popular yet, and this expo has played a significant role in promoting the idea as well as its products in China.
Through filtration, heat exchange, condensation, and mineralization, the equipment can create drinkable mineral water. Aside from small devices, the company also offers giant equipment for industrial use, which can produce 5,000 liters of water each day. "With the price of electricity for civil and industrial use counted, the average cost for producing one liter of water is no more than 0.3 yuan (around US$ 4.2 cents)."
Watergen has set up factories in Israel, Hungary, and the United States. At present, it is cooperating with several Chinese private companies in the Yangtze River Delta area to establish joint ventures. The COVID-19 pandemic has brought unprecedented challenges to businesses around the world. Melnikov said that the pandemic has influenced the company's operations, but it will proceed with business expansion in China. He believes that the complete supply chain and high-quality labor force make China an ideal place for setting up factories. "In the future, we will be able to produce at least 2,000 industrial-level machines each year."
Melnikov is confident about the sale of their products in China. "Our company has made a full analysis of the Chinese market, which is ideal for our products."
He also believes that the company's products are suitable for projects under the Belt and Road Initiative. "We have a dozen Chinese clients who have projects overseas. If there is a lack of water resources or the water is contaminated, they will find our devices perfectly applied for the situation." The industrial-level devices can be used to produce water at places suffering from emergencies and disasters such as earthquakes and droughts.
He argues that China's middle-income group has strong spending power, so the sales prospects for small water devices like "Jenny" will also be promising in China.
In early 2020, Watergen signed strategic cooperation agreement with the Lujiazui Financial and Trade Zone in Shanghai, witnessed by the mayor of the city. Melnikov said that the local government has given them a lot of support for doing business in China. "The local authorities offered great help in terms of license application and trademark registration."
"The deal was struck, and mass production will be the next thing to happen," added Melnikov. Meanwhile, Watergen has already registered for the third CIIE. "This remains to be one of only a few physical expos this year."