Kerala's Disaster a Rude Wake-up Call
Poor watershed management and ecologically destructive development practices have greatly exaxerbated the disaster of the recent floods.
In August, Kerala, a state on the south-western coast of India, famously known as "God's Own Country," battled the worst floods it has faced in almost a century. With the overall death toll nearing 400 at the time of writing, 780,000 people in relief camps and estimated losses of US $3 billion, the flooding and landslides caused by unprecedented rains in the state have no parallel in modern history except for the "Great Flood of 99" which occurred in July 1924 (year 1099 according to Kerala's solar calendar). A red alert was issued in all 14 districts of the state at one point, and rescue and relief operations continue vigorously. As Kerala begins to rebuild, its authorities and citizens alike have much to reflect upon in the coming days, especially the region's developmental trajectory.
No one can dispute that the rainfall during this year's southwest monsoon (June 1-August 15), 2,088 millimetres, was 30 percent above the average of 1,606, with a couple of weeks of active monsoon still continuing. However, this is still comparatively much less than the recorded levels of rainfall in 1924 during the southwest monsoon: 3,368 mm. Yet, the extent of damage has been just as severe, except that thousands were believed to have been killed during the 1924 deluge. Moreover, the vast majority of deaths in the state have been caused by landslides and mudslides, not flooding. Whether the flood was natural or dam-induced is also being debated, considering that a total of 35 dams as well as check dams and bunds were opened around the same time.
Wanton Flouting of Environmental Laws
While excessive rainfall played a huge role in triggering the disaster, the ground situation that exacerbated cannot be ignored. Several environmentalists anticipated the disaster in advance, long before it caused such severe damage to infrastructure including houses, roads, schools and hospitals. In 2017, two shops tumbled into Idukki reservoir, which was formed by Idukki arch dam, Kulamavu dam that carries water to the power station, and Cheruthoni dam, whose shutters are opened when the reservoir reaches peak. At this point, encroachment of water stream in the high ranges set off alarms again. In brazen violation of environmental regulations, thousands of illegal construction projects have sprung up in the downstream areas of the Idukki reservoir built on River Periyar, Kerala's longest river. Warnings had been broadcast several times that in the event of the opening of Cheruthoni dam's shutters, these areas were within the river's natural course and would be flooded causing havoc.
Not only in Idukki District, but even in Ernakulam, Kerala's biggest economic and commercial centre, human incursions have occurred all along the banks of River Periyar as well as on its branches and sub-branches, which include tributaries, canals, streams, lakes and other bodies of water. Consider Kerala's busiest airport, Cochin International Airport, which ironically won the UN-instituted 'Champions of the Earth' award for being the world's first fully solar-powered airport just days before it was flooded and shut.
How environment-friendly is this airport really? It was built in the 1990s on Periyar's floodplain by realigning Chengal Thodu, a canal that connects the airport's drainage system to the river. C. R. Neelakandan, a prominent environmental activist in Kerala, recalled the airport flooding in 2013 when another dam on River Periyar, Idamalaya, was opened. He remarked, "We ignored many signals. In 2013, flooding occurred due to the opening of just one dam. Idukki and Mullaperiyar were not even under consideration. If you occupy the floodplain, the flood will occupy your land—end of story!"
Similarly, numerous critical industries are located right along the banks of River Periyar in Aluva, one of the worst flood-affected areas. Among them are chemical factories and even the Indian Rare Earths Limited (IREL) plant where thorium-bearing mineral sands are processed. Information regarding the extent of damage caused to these industries is still to be determined.
In another case, Kuttanad, one of India's major tourist destinations famous for its backwaters and also known as 'Kerala's rice bowl,' is situated below sea level and is therefore entirely dependent on water balance. The region has been enduring the worst agrarian distress in years, largely caused by ecological destruction due to "lake encroachments, haphazard construction of roads, bridges and culverts, silting and aggressive spread of waterweeds" that "block free flow of water, resulting in flooding to water logging," according to a report submitted by the Dr. M. S. Swaminathan Committee, named after India's renowned agricultural scientist, known as the "Father of the Indian Green Revolution."
With reclamations and choking of canals like the Alappuzha-Changanassery canal, the water lacks a conduit to drain into the Arabian Sea. The committee's proposed project, aimed at mitigating the agrarian distress in Alappuzha and Kuttanad wetland ecosystem, has not been implemented due to a lack of coordination between various government departments and agencies. Similarly, in central Kerala districts like Thrissur, the most-affected entities are 'developmental' projects and structures erected on reclaimed wetlands and agricultural (mostly paddy) fields. Environmentalists are also crying foul over the recent amendment to the Conservation of Paddy Land and Wetland Act, 2008, by which paddy fields and wetlands can be reclaimed for "projects that benefit the public." In addition, years of illegal sand mining in rivers like Bharathappuzha and Pampa for these construction projects have flouted environmental laws and rendered them flood-prone.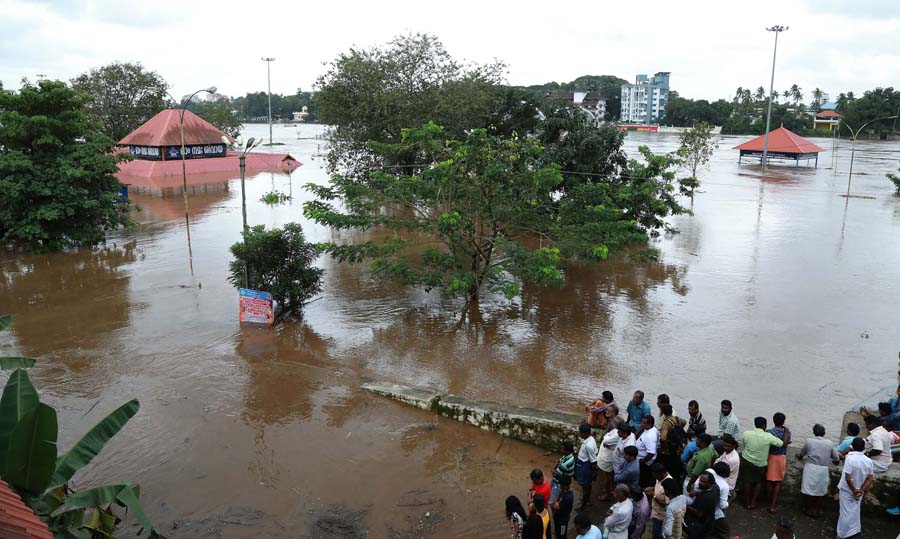 Shoddy Dam Management
Another issue that has become a bone of contention is the management of dams in the state and the lack of an emergency plan. Should dam operators have waited until the water reached the danger mark to release it in the first place? Idukki dam, Kerala's largest dam commissioned in 1975, was opened for the first time during the southwest monsoon and all its shutters continue to remain open. In 1981 and 1992, the dam was opened only during the northeast monsoon (October-December). Following the heavy rains in June and July, the majority of dams in the state had already filled up, and Idukki dam was just a few feet from full capacity. If the authorities had some understanding of the gravity of the weather forecast alerts, which they ideally should, they could have begun to release water gradually in advance in a planned manner instead of opening the floodgates all at once. After all, the purpose of the dams is not just electricity generation; there should be systems in place for the measurement and management of inflow and outflow of water.
This is why despite a few smaller dams downstream being kept open for a month to manage the flow of rivers, the floods still could not be averted. Similarly, districts like Pathanamthitta, Kottayam and Alappuzha have all been adversely affected by unscientific and unplanned opening of dams on major rivers like Pampa and Achankovil. It seems Kerala did not soak up the lessons learned from the mismanagement of Chembarambakkam dam in Chennai that played a major role in causing floods in many parts of the city in 2015.
Thus far, state authorities have relied on the ability of dams to control floods downstream. Now, the flood control function of these dams has come under scrutiny.
It should be noted that Kerala has a poor record as far as water resources management is concerned, as per the Composite Water Management Index (CWMI) of the NITI Aayog think-tank for the year 2016-17. But still, due to 'unexpected' heavy rain, the dams could not hold even a single drop of rainwater in the first week of August. In fact, a proportion of rainwater stored in the months of June and July also had to be drained into the Arabian Sea in a short time, which wreaking devastation all along the way, as also attested by activist C. R. Neelakandan.
"Dam safety shouldn't be about safety of the dam alone; it needs to take into account the natural flow of the river and the safety of the people downstream," he elaborated. "Of course, we cannot decommission all the dams. But we can at least keep a minimum ecological flow in all the rivers." In most places where dams have been constructed, during the non-monsoon season, there is negligible surface flow. This has been exploited by many groups and individuals launching developmental activities on the riverbed itself, narrowing down the river's width. As a result of restricted flow, when the dams are opened, the water tends to breach the existing embankments, as happened this time.
Destruction of the Western Ghats
Since the fatalities have overwhelmingly been caused by landslides in the high ranges and the foothills of the Western Ghats, it is important for the Kerala government to now revisit some of its earlier positions on developmental activities in this ecologically fragile region.
A few years ago, in 2011, a panel headed by Dr. Madhav Gadgil, a renowned ecologist, submitted a report to the Ministry of Environment, Forests and Climate Change, warning the government about illegal mining, quarrying, deforestation and encroachments in the fragile ecosystem of the Western Ghats, which could lead to disaster. The Gadgil Committee's report also brought to the government's attention the premature siltation of many reservoirs in Kerala's Western Ghats due to encroachment and deforestation in the catchment areas of rivers. At that time, Kerala's major political parties and various communities residing in this region rejected the report and refused to take any action on the riverfronts. With more than 5,000 quarries (mainly granite) operating in the state, a doomsday scenario became more or less inevitable.
During the recent disaster, more than 200 landslides and mudslides were reported across Kerala. Apart from the casualties, innumerable buildings, including houses, were completely destroyed or washed away. Various parts of districts like Idukki, Wayanad and Palakkad became inaccessible due to road damage caused by landslides and mudslides. Moreover, in many areas, flooding was aggravated by landslides. Tourism, a major industry of the state, has been decimated by the disaster. Paradoxically, the resorts, hotels and other tourist facilities are mostly built in encroached, eco-sensitive lands. It would not be nonsensical to claim that if the Gadgil Committee's report had not been snubbed and its recommendations to declare certain areas as "ecologically sensitive zones" and prevent ecologically destructive activities had been even partly implemented, the effects of this disaster could have been minimized.
Climate Change and the Future of Disaster Management
One factor that seems to have been completely neglected by political parties and mainstream media is climate change. Within a span of two years, Kerala has seen both drought-like conditions (slow-onset disaster) as well as severe flooding (rapid-onset disaster). In 2017, Kerala endured its worst-ever drought in over a century. Although there are no visible, predictable patterns of decrease or increase in the southwest monsoon in Kerala, the trend suggests that climate change is leading to more intense rainfall in a shorter duration.
While Kerala may be one of the best-governed states of India, it remains a question whether its development strategy is aligned to this reality. "There was no single mention of climate change in the manifestoes of any of the major political parties—Left Democratic Front or United Democratic Front—in the 2016 elections," noted C. R. Neelakandan. Kerala is one of the most vulnerable places in the world as far as the effects of climate change are concerned, particularly in terms of extreme weather events and disaster. Several warnings have been communicated to the Kerala government, not only the current one, but also its predecessors, on the disaster vulnerabilities of the state. Sadly, the state's disaster preparedness seems horrendously inadequate still. Very little has changed since the disaster wreaked by Cyclone Ockhi in 2017, when southern Kerala's coastal communities were severely affected—the warnings for which were given only after it hit the state's coast.
Those who believe that a disaster of such a massive scale is bound to happen once in a century may want to reflect upon the environmental changes that the whole country has been facing in recent years. Not only has the frequency of such disasters increased, but the intensity has also escalated. While it is easy to nominate climate change as a factor, it is indeed a reality that Kerala's population density, poor watershed management and ecologically destructive developmental pathways have added to the misery of its people. Even while praising the efforts of the government, disaster rescue-and-relief actors and the people of Kerala, let us not turn a blind eye to the state's failures to prevent the disaster, or at least mitigate its effects. The lessons to be learned from this disaster are far too numerous for a single or a couple of actors to act upon. Hence, the same population that has shown solidarity in carrying out rescue and relief efforts selflessly needs to now gear up for a complete overhaul of the state's development-cum-disaster policies in conjunction with environmental laws and regulations.
The author is Co-coordinator of the Centre for Climate Studies, Manipal Academy of Higher Education, and Research Fellow, Earth System Governance Project.