Modi in Hangzhou: China-India Dialogue Underway
The strategic partnership between India and China is important to not only these two countries and the region, but also the whole world.
by
Liu Haile and Zhou Xin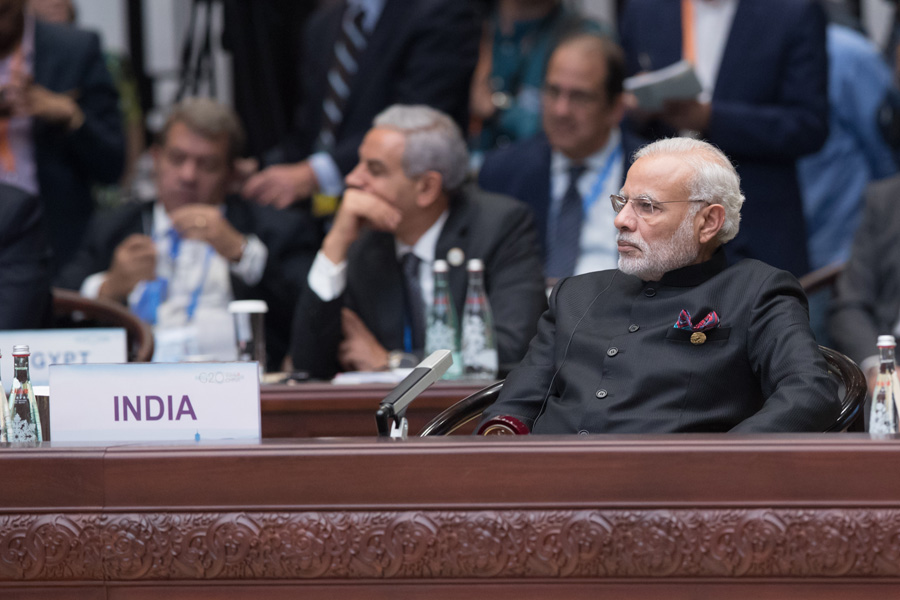 Indian Prime Minister Modi had formal and informal meetings with leaders from many nations including China and BRICS member countries at the G20 Summit and its sidelines in Hangzhou.
Before coming to Hangzhou, Modi had released his program, saying that he would be engaged with other world leaders on pressing international priorities and challenges and they would discuss putting the global economy on the track of sustainable and steady growth. He looked forward to a productive Summit.
President Xi Met Prime Minister Modi
On the sidelines of the G20 Summit, Modi had a bilateral meeting with President Xi Jinping. President Xi expressed the wish to work with India on promoting the two countries' relationship, deepening cooperation on the G20 platform, and together making a greater contribution to a world economy that grows faster and to better global economy governance.
Modi said that the strategic partnership between India and China is important to not only these two countries and the region, but also the whole world. The leadership of two countries has maintained frequent interactions. Trade and cultural exchanges of two countries has developed further. And, the two countries share similar stance on international issues. India will cooperate with China for productive result in the G20 Hangzhou Summit and look forward to President Xi's visit to India for the BRICS Summit.
BRICS Leaders Gather in Hangzhou
Modi then attended the informal meeting of leaders from BRICS. Addressing the meeting, President Xi called on BRICS members to promote the reform of the governance structure of the International Monetary Fund and the World Bank, with the aim of boosting the representativeness and say of emerging-market and developing countries. BRICS nations are the leaders among emerging-market economies and developing countries, and also important members of the G20, Xi said, noting that they should reinforce coordination to build, maintain and develop the BRICS and G20 platforms.
As chair of BRICS, Modi described BRICS as "an influential voice in international discourse" and said it was the grouping's shared responsibility to shape the global agenda. He also said that "building responsive, inclusive and collective solutions is the theme we have chosen which mirrors central priorities at the G20 Summit."
Asian Giants Promote Global Growth
The world is eager to see China-India interaction during the Summit.
Swaran Singh,professor from Jawaharlal Nehru University, says that China and India, both large economies with high growth, are locomotives for global growth. They are responsible for promoting the evolution of global economic governance. And G20 presents an ideal platform for China and India to not just catapult their own role and representation but to reboot global growth and transform global governance structures.
Some Chinese media analysts say that China and India have common grounds on many issues, for example restructuring of many international institutions, including World Bank, IMF, WTO, the UN, and climate change. Besides, China and India have always cooperated in areas including climate change and emission reduction, anti-terrorism and so on.
A senior journalist from India says that Indian media is paying close attention to how G20 summit will influence the world economy, who Modi will meet during the Summit and what measures he will put forward.
This article is exclusive to China-India Dialogue. Feel free to share this article. To reprint this article, please contact us for permission.