[Fostering Collaboration for Mutual Benefits] Building Partnerships for the Future
The economic ramifications of the COVID-19 pandemic are going to last for a long time and governments need to reboot the global economy.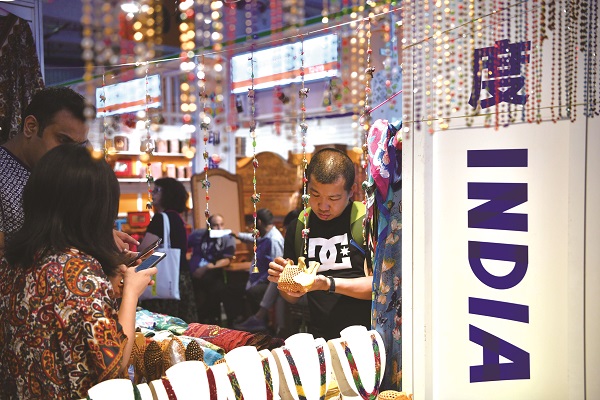 The economic ramifications of the COVID-19 pandemic are going to last for a long time and governments need to reboot the global economy. India and China together constitute a third of the world's total population and any solutions or economic trends emerging in this region are likely to influence the global market. In an interview with China-India Dialogue, Indian journalist and senior business analyst Moyna Manku said that in the globalized world, the best bet will likely be strong partnerships, and both Chinese and Indian governments need to work towards closer and more sustainable economic ties.
China-India Dialogue (CID): What are the characteristics of the economic and trade exchanges between China and India?
Moyna Manku: As per information provided by China's General Administration of Customs, Indian exports to China include organic chemicals and ores; natural pearls, precious stones and precious metals; cotton, including yarns and woven fabrics thereof; fish and crustaceans, mollusks and other aquatic invertebrates. Indian imports from China include electric machinery, sound equipment, television equipment and parts thereof; boilers, machinery and mechanical appliances and parts; organic chemicals; plastics and articles thereof; and iron and steel. The items listed above include only the traditional trade commodities and do not account for investments and the virtual economy that has flourished in both countries over the past decade and a half.
CID: In what areas do you think the two countries can further strengthen their cooperation?
Manku: Partnerships in trading commodities already exist but need further support. For instance, China is the global leader in electronic hardware manufacturing and India has proven its expertise in developing software. This is an obvious link that the two countries could work towards common development. Small steps have been taken in this direction like the partnership established between India's National Association of Software and Services Companies (NASSCOM) and three municipal governments in China for developing the IT sector. These corridors mark a big step in the co-creating mode towards establishing the expertise of China and India in emerging technologies such as AI (artificial intelligence), IoT (Internet of Things) and analytics. Although these are not very large numbers given the scale and scope of the sector, with more government support, it is essential that such partnerships should be scaled up.
While China has expanded its manufacturing capacity in all industries, especially pharmaceutical ingredients, India's generic medicines find favor in many emerging markets across the globe. In the age of global supply chains, natural linkages are formed. For instance, in the global pharmaceutical industry, India is considered the world's third-largest producer of finished drugs and it relies on China for supplies of active pharmaceutical ingredients (APIs). China supplies 40 percent of the world's APIs. India imports close to 70 percent of its demand from China. However, there has been little progress in developing closer ties between the two countries in the pharmaceutical sector.
CID: What do you think of the trade deficit between India and China?
Manku: Over the last few decades, ties between the two largest economies of Asia have been cordial and in the last three decades, trade between the two countries has seen a steady growth. There is an obvious trade deficit between India and China, but this can be addressed by furthering bilateral agreements. A promise for the same has been made by both sides repeatedly and a few steps to this effect have also been taken by both governments. China and India share not only physical geography with rivers and mountains running across our territories, but also the political ambition of establishing a more equitably distributed global economy that is not dominated by the West. Therefore, the two countries need to work together and build a new partnership on old ties
CID: The COVID-19 pandemic has resulted in an unprecedented decline in global economic activity. How will this influence the economic development of China and India?
Manku: While this does not bode well for the short term, it has created an opportunity for countries like China and India for long-term economic development. The last two decades have witnessed that emerging markets and developing economies, particularly China and India, are among the top contributors to global economic growth. If China and India could establish sustainable trading partnerships, there would be little or no hurdle for Asia to become the world's strongest economic power.