Road to a Great Power in Transportation: China's Traffic Infrastructure Leaps Forward
From 'Introducing Technology' and 'Made in China' to 'Designed in China', China's transport industry has turned from a 'Straggler' to a 'Forerunner' in the world.
Since the founding of the People's Republic of China in 1949, the nation's traffic infrastructure has witnessed a great leap forward. Given the need for transport as a foundation and propeller for economic and social development, the Chinese government attached great importance to the development of transportation. Since then, China's transport industry, which was rather backward, underwent restructuring for rapid development.
BOOSTING ECONOMIC AND SOCIAL DEVELOPMENT
As a basic industry, transportation is necessary for economic and harmonious development of society. It is an important prerequisite that supports economic growth and determines economic vitality.
Transport supports China's fast economic growth. In the early years of the People's Republic of China, underdeveloped transport was a bottleneck that seriously hindered economic and social development. Over decades of construction and development, the quality and turnover of China's passenger and cargo traffic have greatly improved, thus boosting economic efficiency and hastening economic and social development. Transport accelerates China's industrial restructuring and upgrade. In the course of China's industrialization and modernization, transport has played a leading role in territorial development, regional spatial adjustment and industrial restructuring. The construction of logistics channels enables technology and products to be transported efficiently amongst different regions. Transport can accelerate economic growth. In China's industrial distribution map, industrial clusters were mostly around developed transport arteries. Subsequently, industrial agglomeration may enhance regional advantages and thereby nudge different regions to adjust their respective industrial structures, achieve mutual complementation between their advantageous resources, and distribute their industrial resources more rationally.
Transport supports China's implementation of its major strategies. Transport integration has been given top priority in the implementation of the nation's strategic plans ranging from the 'Western Development,' 'Revitalizing Northeastern China,' and 'Rise of Central China' to the 'Belt and Road Initiative,' 'Integrated Development of Beijing, Tianjin and Hebei,' and 'Yangtze River Economic Belt.' Through giving full play to the leading role of transport infrastructure, China aims to form regional, grid-like traffic networks with multiple hubs. Based on economic belts, routes, corridors and bridges, those regions can complement each other's advantages, connect each other's productive factors, and achieve common development.
Transport improves social equality, inclusiveness and sharing. Essentially, transport is supposed to serve people. Therefore, it should be people-centered, with its ultimate purpose grounded in people's convenience, interests and benefits, so that all enjoy the dividends of China's reform. Transport is an important foundation for optimizing urbanization. Particularly, transport conditions are among key factors that can determine economic and social development of impoverished areas. In recent years, a number of highways, bridges, and ferries have been constructed in rural areas, greatly improving the transport conditions of many poverty-stricken areas and enabling more people to enjoy the benefits of transport development.
IMBALANCES AND CHALLENGES
Over decades, China's transport industry has changed from weak to strong, and formed a comprehensive, interconnected traffic network integrating various means of transport. It has accomplished a quantum leap in terms of transport mileage, volume, technology, equipment, and service efficiency and quality. However, there are still challenges and problems to be overcome in the field of transport infrastructure. China's transport industry is still affected by an imbalanced internal structure.
Presently, each type of transport tends to develop by itself, lacking integration and coordination, especially the bottleneck of the so called 'last 100 metres' of passenger transport and the 'last kilometre' of cargo transport. Railway transport has yet to achieve seamless connection with highways and harbors. The different means of transport lack further integration. Moreover, China lags behind in the construction of railway arteries, inland waterways, and harbor transport systems. Transport infrastructure is imbalanced between different regions in China. Former revolutionary base areas, areas inhabited by ethnic minorities, remote and border areas and poverty-stricken areas are still underdeveloped in transport infrastructure.
The development of transport is increasingly constrained by external factors. Apart from growing pressure from factors like energy, land, and environment, transport infrastructure construction is facing greater difficulties, higher costs, and rising shortage of maintenance funds. Against a backdrop of the pressure of an accelerating economic downturn, it would be hard to provide funds for the construction in the near future.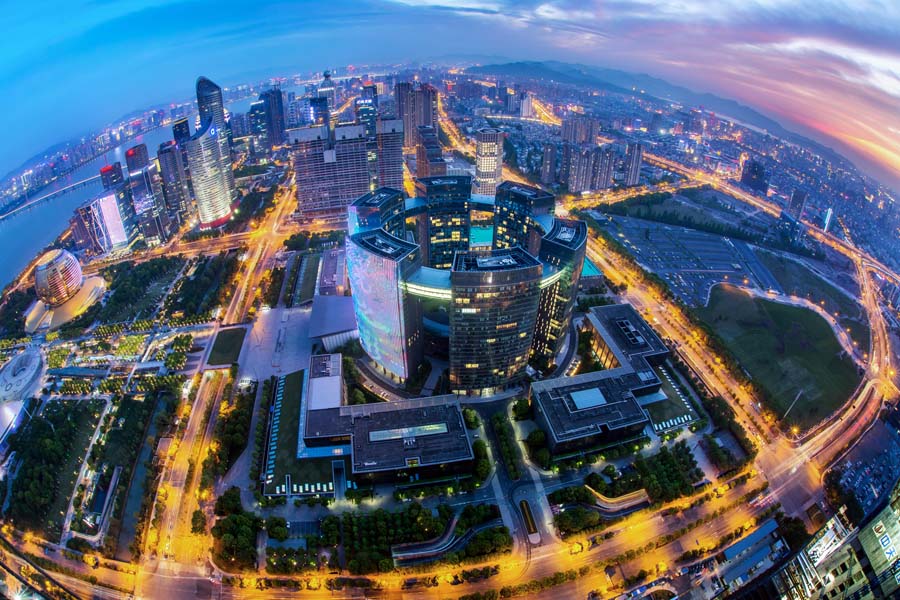 There are considerable demands for improving transport quality and efficiency. The demands for transport services with high added-value are growing, especially high-end, convenient, comfortable and customized travel services, thus raising the bar for quality and efficiency of transport services. New industrial trends are accelerating the transformation of the transport industry. New trends such as the development of internet-based transportation are changing traditional transaction modes, organizations and operations of transport services; and, injecting vitality into the transport industry while giving rise to new challenges. In the new phase of development, China's transport industry must confront new challenges and solve new problems by focusing on industrial restructuring and continuing reforms.
FROM 'STRAGGLER' TO 'FORERUNNER'
China has formed a comprehensive transport network. Currently, it ranks the world's No.1 in the lengths of expressways and high-speed railways, highway passenger and cargo turnover, harbor handling capacity, waterway freight volume and turnover, railway transportation, and urban rail mileage. The nation also ranks second globally in the lengths of highways and railways and overall aviation turnover. China has become a veritable great power in terms of transportation and plays an increasingly important role in world transport development by undertaking transport projects in several countries.
From 'introducing technology' and 'made in China,' to 'designed in China', China's transport industry has turned from a 'straggler' to a 'forerunner' in the world. The nation has achieved miraculous progress and accumulated world-leading technologies in fields like expressway, highspeed railway and deep-water harbor construction.
Over decades, China's transport technologies have been spread across the world. Those cooperative projects such as the China-Pakistan Economic Corridor, the Algeria East-West Expressway, the Jamaica North-South Expressway, the Second Penang Bridge in Malaysia, the Colombo Port City in Sri Lanka, the New Container Terminal at Namibia's Walvis Bay, the Nigeria High-speed Railway Project, and the Jakarta- Bandung High-speed Railway in Indonesia laid a solid foundation for China's transport industry to go abroad. At present, China has been encouraging its high-speed railway, expressway, and harbor construction enterprises to participate in overseas infrastructure construction projects and international production capacity cooperation, thus sustaining itself as the world's leader in technology in these sectors.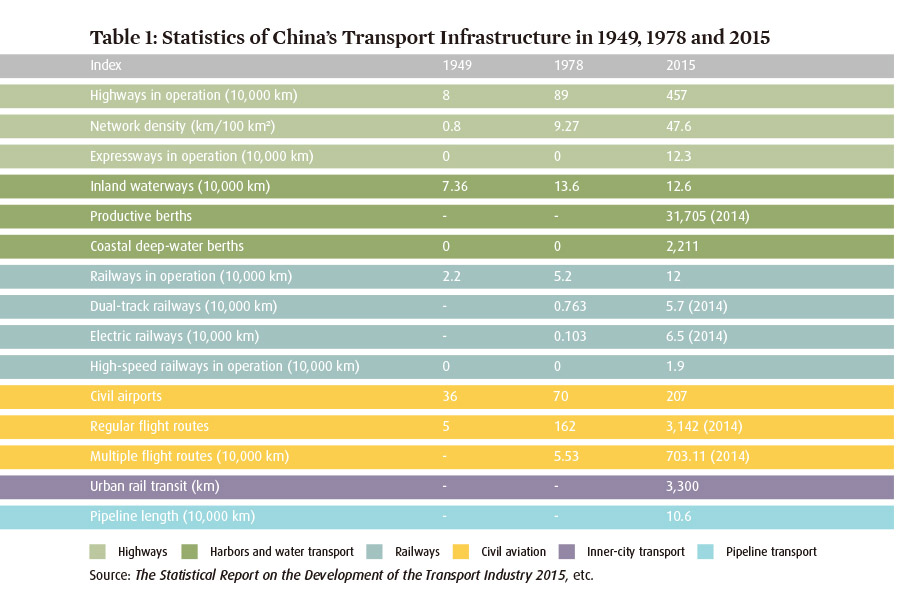 So far, China's proposal on building the Silk Road Economic Belt and the 21st Century Maritime Silk Road (namely, the 'Belt and Road Initiative') has created a new framework for international economic cooperation. Transportation is an important foundation for inter-regional exchange and communication. The nine major projects planned by the Chinese Ministry of Transport (MOT) to link China and its neighbors including Mongolia, Russia, and Pakistan will form a network of Silk Road routes that is connected to domestic traffic arteries and radiates globally, as well as a tangible framework for economic cooperation along the Belt and Road. The majority of countries along the Belt and Road are mostly underdeveloped economically and socially and need to develop their infrastructure on a large scale. China's advanced and reliable technology and equipment in the field of transport infrastructure construction can meet their demands.
The Belt and Road Initiative provides a good opportunity and platform for China's transport infrastructure enterprises to expand their businesses to other countries and regions in Asia, Central and East Europe, East and North Africa; and, enhance their brand recognition and influence worldwide. These could propel China's transport industry to new heights on the world stage.
The author is associate research fellow at China Academy of Transportation Sciences, MOT. She graduated from Chang'an University, where she majored in Transportation Planning and Administration. She has long been dedicated to the research of transport strategies, plans and policies, and won first prize on science and technology five times and second prize one time from the China Highway and Transportation Society. The books she authored or coauthored include China's Transportation Revolution: Road to Development by Leaps and Bounds and Developing Modern Transportation: New Strategies on Highway and Waterway Development in the New Era.