Strengthening Media Cooperation to Spread the Voice of BRICS
The speakers agreed that the media can serve as a window for mutual understanding, a bond of friendship, and a bridge for cooperation. In the context of deepening cooperation among BRICS countries, there is a great potential for media cooperation.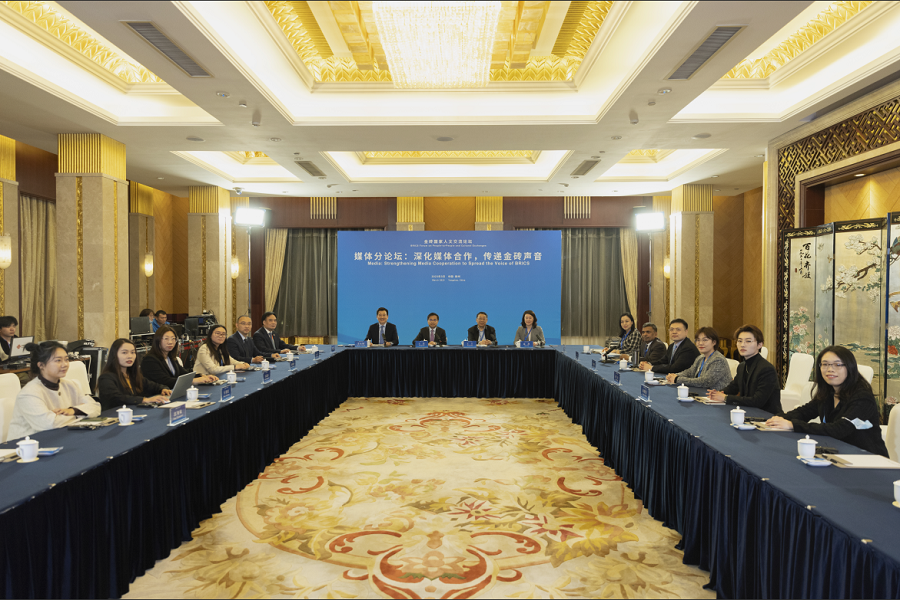 The media sub-forum of the BRICS Seminar on Governance & Cultural Exchange Forum kicked off on March 31 in Yangzhou City, Jiangsu Province. The sub-forum was moderated by Jiang Yonggang, president of the CICG Center for Europe and Asia (China Pictorial Publications). Fifteen speakers from the mainstream media outlets of BRICS countries participated in the event and discussed relevant topics under the theme of "Strengthening Media Cooperation to Spread the Voice of BRICS."
The speakers agreed that the media can serve as a window for mutual understanding, a bond of friendship, and a bridge for cooperation. In the context of deepening cooperation among BRICS countries, there is a great potential for media cooperation.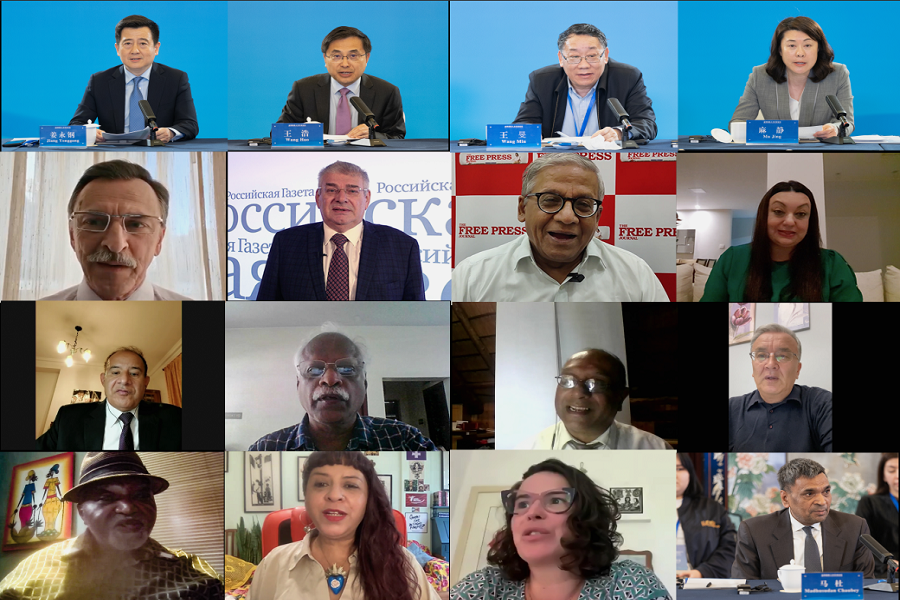 Wang Hao, Deputy Editor-in-Chief of China Daily, stressed that media outlets from BRICS countries should share their stories through deep communication to foster closer partnerships, promote BRICS cooperation by building a solid foundation of mutual trust, and guide public opinion to pool strengths for collaboration.
Mikhail Morozov, Deputy Editor-in-Chief of the Russian newspaper Trud, said that the world is undergoing profound changes and challenges, which calls for joint efforts of all countries. BRICS countries can better represent the interests of developing countries, and the BRICS spirit of openness, inclusiveness, and win-win cooperation pushes the international system to become fairer and more reasonable.
Wang Min, Vice President of China News Service, proposed that media organizations and think tanks from BRICS countries should connect public opinion among those countries through broadening and deepening cooperation, work together to better tell stories about BRICS to create a more unbiased international public opinion environment, and explore novel cooperation models driven by technology to contribute towards the high-quality development of the BRICS mechanism.
Asylbek Bisenbayev, General Director of Kazakhstan's Komsomolskaya Pravda, stressed that as the global political landscape is currently undergoing significant transformations, all nations have a crucial role to play in ensuring the security and prosperity of the world in the future. The media has a vital responsibility in addressing multiple global issues.
Abdelmoeti Abuzaid, Head of Information Sector at State Information Services of Egypt, said that the media plays a pivotal role in promoting the goals of BRICS. By leveraging their collective strengths and capacities, BRICS countries can establish more influential media organizations, which can help address the imbalance in the global media system and reduce the dominance of a few Western countries over the international media industry.
Ma Jing, Deputy Director-General of China Global Television Network, advocated actively embracing new technologies and exploring new forms of media and novel media technologies. She emphasized the importance of utilizing new technologies to innovate the content, expand communication channels, enhance communication efficiency, and revolutionize communication patterns.
Rama Chandran, former Editor-in-Chief of Janmabhumi, stressed that there are misinterpreting and misreading voices in international public opinion that are skeptical of the development prospects of the BRICS mechanism and even BRICS countries. Chandran believes that there should be pragmatic cooperation among media organizations of BRICS countries, including conducting joint interviews on major topics, and promoting cooperation in information services, professional training, human resources and think tank exchanges.
Fabiana Ceyhan, Senior Journalist and President of the Brazilian Association of Journalists of International Area, pointed out that some media outlets release fake news and spread disinformation under the guise of democracy and freedom of speech, which may cause great harm.
R. N. Bhaskar, Consulting Editor of Free Press Journal, noted that media outlets of BRICS countries should actively disseminate correct information and eliminate disinformation, conduct sufficient discussions and exchanges on topics ranging from trade to education, health, information and more, and offer insight into both domestic and global affairs to better our societies.
Janaína Camara da Silveira, Founder and Editor-in-Chief of Radar China, opined that facing unprecedented global challenges and changes, the BRICS multilateral mechanism is conducive to promoting peace and development. Media outlets of BRICS countries should work together to bridge people-to-people exchanges and various mechanisms.
Kirtan Bhana, Editor-in-Chief of Diplomatic Society, noted that media outlets of BRICS countries should partner on innovating media formats via new technologies to offer informative coverage to the public.
Alexey Savin, Chief Editor of Business Applications of Rossiyskaya Gazeta, pointed out that due to the rapid changes in the world today and the unprecedented challenges we face, BRICS countries should take advantage of the important role that media outlets play in developing comprehensive partnerships in the principles of openness, transparency, solidarity and mutual assistance, while deepening cooperation and seeking common development.
Brian Sokutu, Senior Reporter of The Citizen, a South African daily newspaper, said that the BRICS Media & Think Tank Association can be developed into an information sharing and consulting organization for BRICS countries by telling the BRICS stories in an appealing way and eliminating false news and biased narratives.
Madhusudan Chaubey, Copy Editor of the CICG Center for Europe and Africa (China Today magazine), emphasized that all kinds of exchange activities led by the media are crucial for promoting people-to-people bonds between China and Africa. In the future, we should continue to help strengthen people-to-people and cultural exchanges between China and Africa, deepen media cooperation, and consolidate our traditional friendship, said Chaubey.
Iara Vidal, Columnist of "China in Focus" in Forum magazine, opined that reporters need to take the sound responsibility of information dissemination and interpretation. They can help break barriers and build bridges to unite people of BRICS countries by disseminating the history of BRICS countries.